---
On 17th of April 2013 two polar bears were transferred from Nuremberg (Germany) to the Municipal Zoo in Warsaw. This has attracted considerable interest, both in the country and abroad. The issue was raised at the conference "Wild Animals in Captivity - Animals Welfare, Law and Enforcement", which was held in Brussels on 19-20 June 2013.

Twins - Gregor and Aleut - are the only representatives of this species in Polish zoos since the death of 31-years-old female named Tuya (24 September 2009, Wroclaw Zoo). Bears were born on 2nd of December 2010 in Nuremberg, where were kept until transport to Warsaw. The enclosure in Nuremberg, inhabited by the parents of the twins, is of ​​2300 sq. m (including the swimming pool of 600 sq. m).
On the contrary to some public statements that have appeared in the Polish media, polar bears - Gregor and Aleut were not planned to be euthanised in the Nuremberg Zoo. The transfer to Warsaw was not a rescue act to save them from death. Nuremberg Zoo is now expecting the new cubs the next winter. No measures to prevent further breeding of polar bears have been applied.
The law in Germany bans euthanasia on healthy animals.
In June 2010 the German court handed down a verdict to the Magdeburg Zoo director and three employees to be guilty of euthanizing three tiger cubs.
The bears have been moved to Warsaw, although the zoo does not have the proper conditions to keep such a large and demanding animals. Just two years ago the zoo heads ensured that the two brown bears, deposited to the animal shelter in Korabiewice 16 years ago and a property of the zoo, can not be taken. The next two brown bears are kept outside the zoo – in an enclosure next to the bus stop on a big street. Despite those facts, another bear species has been taken, even more demanding than brown bears. In a special statement the zoo heads refer to the minimum requirements for keeping animals in zoos specified in the Regulation of the Ministry of Environment of 20 December 2004. These standards are outrageously poor and do not meet the requirements set out in the EU Zoo Directive and the Nature Conservation Act. Both documents require to keep animals in zoos in such conditions where it is possible to meet the biological and conservation requirements of the animals. The Polish minimum space requirement for a pair of polar bears is 400 sq. m, while in Sweden at least 1 500 sq. m of space per one bear.
There is still a problem of the lack of adequate space for the bears kept in zoos in Poland and they are often kept in really poor environments in concrete pits-like enclosures. This problem has not disappeared. Only some of the zoological gardens have succeeded to change it (Toruń, Zamość, Białystok, partly Wroclaw ith one semi-natural enclosure of above 1 ha of space). Now in Poznań Zoo the new enclosures for bears are being built. The Zoo has been recommended by us as a perfect place to establish a sanctuary for brown bears. The sanctuary is funded by Four Paws foundation (Vier Pfoten) and will be homing three bears from Korabiewice (animal shelter near Warsaw) and four bears from Braniewo (NE Poland).
Around 100 of polar bears is being kept in European zoos. After a success of Knut in Berlin Zoo, the interest in this species has increased. The polar bear population in the wild is 20 000 – 25 000 individuals and is one of the highest in the last 100 years. Climate change effects and risks to the population are a subject of scientific debate. The ex situ conservation is not an issue under consideration, as is inefficient in case of this species.

The polar bear is the largest terrestrial carnivore and also the only land mammal travelling such a big distances. A home range of the polar bear can reach 600 000 sq. km(to compare - Great Britain is of 229 sq. km). These animals are able to swim as much as 100 km daily. They forage while exploring large areas. In captivity, polar bears are especially susceptible to behavioural disorders, particularly stereotypies, and the lack of proper space to explore, lack of stimulation and inadequate thermal conditions are the main underlying factors. It is a sign of stress, mainly due lack of stimulation to natural behaviours, negative experiences, or improper keeping conditions. Stereotypies are a symptom of a chronic frustration. Even the world's best zoos are unable to provide really optimal conditions for polar bears. This species is extremely demanding. Therefore, some researchers, scientists and experts on the welfare of animals in captivity consider this species as the one that should not be kept in zoos.
Pacing is a big part of the activity of the polar bears in Warsaw Zoo. It should be noted that they are young individuals and were transferred to the new enclosure just about four months ago. Even the environmental enrichment objects, aiming to stimulate natural activity, manage to reduce these behaviours only slightly.


The average summer temperature in Warsaw is not appropriate for polar bears, for which a suitable thermal conditions are extremely important and a welfare issue. In the statement of the Warsaw Zoo heads, there is mentioned that in Manitoba (Canada), in the area of polar bear distribution, the temperature reaches 26oC (78,8oF) in summer. But even in the Churchill village in Manitoba, mentioned as an example of this species' surviving in high temperatures, the average daily temperature in July and August is around 11-12oC (51,8-53,6oF), while in Warsaw 18-19oC (64,4-66,2oF). The temperature is also much lower than in Warsaw in the other months (e.g. the average temperature in Churchill in May, September and January is -0.7°C, -9.7°C, -26.7°C (30,7oF, 14,5oF, -16oF), and in Warsaw 14.2°C, 13.4°C and -1.9 °C (57,6oF, 56,1oF and 28,6oF), respectively. During extremely hot days bear spend on the land only short time and can dive in the ice-cold ocean. The water temperature in the Hudson Bay does not exceed of 9°C (48oF), even in summer.

Temperatures in July 2013 - meteo station Warsaw Wawer (in brackets Fahrenheit degrees):
July 28, 2013 - at max. 33.9 (93 )
July 29, 2013 - at max. 36.6 (97.9)
August 2, 2013 - at max. 30.5 (86.9)
August 3, 2013 - at max. 32 (89.6)
August 4, 2013 - at max. 30.9 (87.6)
August 5, 2013 - at max. 32.1 (90)
August 6, 2013 - at max. 33.5 (92.3)
August 7, 2013 - at max. 35 (95)
August 8, 2013 - at max. 37.3 (99.1)

Thermal stress can be the cause of death of polar bears. It happens in different zoos in the world. The polar bear is a species adapted to very low temperatures, and absolutely should not be kept in Warsaw zoo.

Polar bears are built for extremely cold climate, where temperatures can drop to – 45oC (– 50oF). They have thick fat layer, specific subdermal vascularization and two layers of fur. Their small ears and tail also prevent heat loss. These adaptations help maintain body temperature in arctic climate but are inadequate to contend with hot air temperatures. Polar bears may depend on postural and behavioural mechanisms during extremes of temperature but efficiency of these mechanisms is limited. It is assumed that the temperaturę above 20oC (68oF) causes a serious discomfort

According to the Animal Rescue Poland, on Thursday, August 8, 2013, the air temperature in the enclosure in shadow reached 38 oC (100,4 oF). Polar bears were locked in indoor enclosures. Bears roar could be heard from a distance. Later, one of the bears was released outside, the other remained inside.
According to report, Andrzej Kruszewicz - director of the zoo said that the responsibility for the welfare of polar bears in Warsaw zoo takes the EEP (European Endangered Species Programme). This is surprising because, according to Polish law, this is responsibility of the zoo director, not coordinator of international EEP.
At the same time director asserted that brown bears from the adjacent enclosure will be moved to the enclosure outside the zoo, where are kept two other brown bears. Thanks to this change enlargement of the polar bears enclosure will be possible. It should be emphasized that the enclosure outside the zoo is situated on a busy street, next to the bus stop, bears are fed by passerby and does not ensure the right conditions for bears.

Why polar bears should NOT be kept in the Warsaw zoo? There are a couple of reasons, the most important of which are the following:


1. The enclosure of around 500 sq. m is inappropriate and extremely insufficient for polar bears. The use of environmental enrichment can only ease their suffering, but is not a substitute of a properly furnished enclosure of the proper space (not just a few hundreds, but at least a few thousands sq. m).

2. The summer temperature in Warsaw is too high for this species. Swimming pool, showers and access to shady areas are not enough for the welfare of those animals. To ensure proper thermal conditions, an efficient air-conditioning and water-cooling system is needed. To ensure the possibility for appropriate comfort behaviours and thermoregulation is extremely important for this species.


3. Article 72, point 1 of the Nature Conservation Act states that "zoos can bring in only the animals, for which they are able to ensure proper conditions to fulfil their biological needs".

**********************************************************************************************************
Enclosure in Nuremberg - 2 300 sq. m, enclosure in Warsaw ca. 500 sq. m.

Stereotypic behaviours in polar bears are common even in large, well-equipped enclosures. In Warsaw Zoo it is a dominant activity of Gregor and Aleut. Both individuals display pacing on a concrete island, one bear at the top and the second one below. The pictures illustrate the sequence of those movements.
Appropriately low temperature is very important. Shady areas without effective air-conditioning system can improve the situation only very slightly.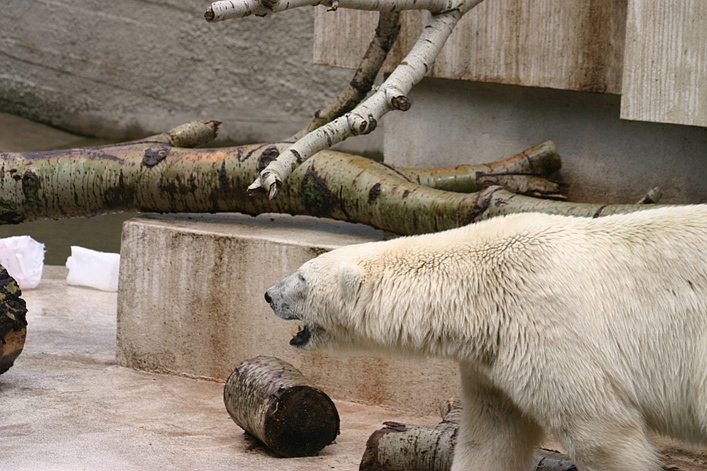 Water temperature in the Hudson Bay, one of the warmest place on the map of polar bears distribution even in summer is lower than +10
o
C (50
o
F), water in Warsaw zoo is above +20
o
C (68
o
F).
Pictures: www.bearproject.org
update: 21 July 2013
---
Balbina from Korabiewice has died -

next »
« previous

- Help for bears in Braniewo - surgery to remove the tumour and a new diet for bears
---